Are they drinking? Alcohol abuse leads to safety problems affecting the public at large and it gives rise to increased costs, lower productivity and potential loss of life.

EtG Alcohol Testing

What is Ethyl Glucuronide

Ethyl Glucuronide or ethanol (EtG) is an intoxicating ingredient found in beer, wine, and liquor produced by the fermentation of yeast, sugars, and starches.




EtG testing is typically used to evaluate and monitor whether an individual is abstaining from the consumption of alcohol. Our EtG testing protocol uses an immunoassay screen with LC/MS/MS confirmation of any presumptive positives. Our confirmatory testing is performed in conjunction with EtS testing. This process maximizes the benefits of both the sensitivity of EtG testing and the stability of EtS as a separate long-term ethanol metabolite.

Call Now to schedule a test Today, anywhere nationwide: 800-989-1206


Key Benefits of Using EtG test Include:

Detects recent usage more accurately and for a longer period of time than standard testing (80 hours)
Ideal for zero tolerance and abstinence situations
Strong indicator of alcohol ingestion within the previous 3 to 4 days
EtG is only evident when alcohol is consumed and is not produced as a result of fermentation
Allows monitoring in alcohol treatment programs
Acts as an early warning system to detect trends towards relapse
Tests are performed by LC/MS/MS on state of the art equipment for accuracy and reliability
Thirty-six hour turnaround time from receipt of specimen
EtG may be run on urine specimens in conjunction with other drug testing panels

According to the National Council on Alcoholism and Drug Dependence, Inc., alcohol is the most commonly used addictive substance in the U.S., with one in every 12 adults suffering from alcohol abuse or dependence. Sadly, an estimated 7 million children live in a household where at least one parent is dependent on or has abused alcohol.

Click here for more information: EtG FAQ

Call Now to schedule a test Today, anywhere nationwide: 800-989-1206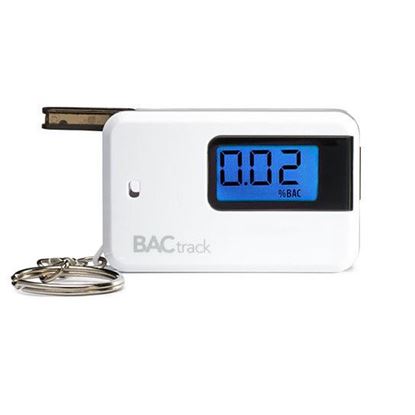 BACtrack Go is the smallest, sleekest accurate breathalyzer on the market. Advanced MicroCheck® alcohol sensor determines BAC quickly and accurately; mouthpiece folds away to protect it while not in use. Proprietary sensing technology and a specially tuned algorithm, deliver accurate results unparalleled at this price point.